10-year-old hockey player from Pembroke joins Toronto Pro Hockey Dev. Group team for Brick Invitational Tourney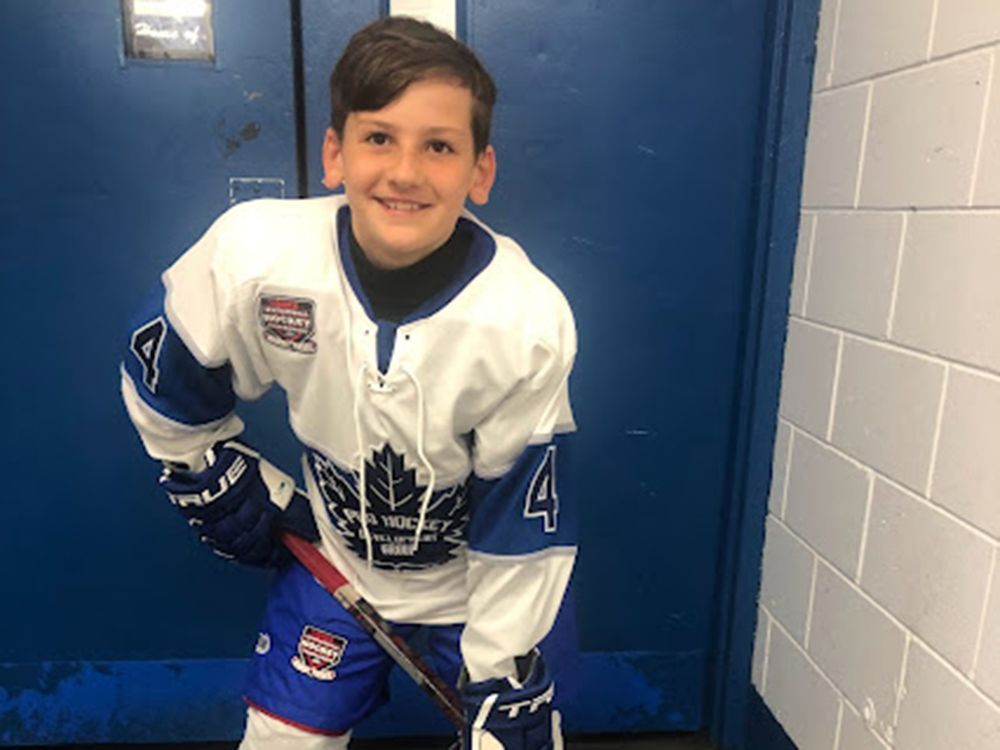 Content of the article
A rising young hockey star from Pembroke will lace up his skates for the Toronto Pro Hockey Development Group this summer to take on the best 10-year-olds in North America this summer.
Content of the article
Auzzie Watson, son of Blair and Diane Watson and brother of Annabella, is one of six defensemen to make the provincial team participating in the Brick Invitational Hockey Tournament (BIT).
"…wearing the Toronto Pro Hockey jersey and training on the same ice as the Toronto Maple Leafs, my idols, will only add fuel to my drive to compete with the best of the best this summer and beyond. next," said Auzzie who will be proudly wearing the number 4 white and blue jersey.
His dad noted that Auzzie has been playing hockey since he was four years old, a year ahead of his age group.
"As soon as he started walking, he was carrying a stick and throwing a ball around the house and reciting the hockey stats of the players at the time. He was obsessed with hockey," Blair Watson said. "Hockey is something that came very naturally as soon as he started playing."
Mother Diane Watson shared that from an early age, her son dreamed of playing in the Brick Invitational hockey tournament.
"He was determined to be one of the best defensemen in Ontario and every day for three years he worked towards that dream. He is a rare combination of trainable talent and is a natural attacking-minded defender," she said.
Auzzie was scouted by elite AAA coaches in Montreal, where he was selected to play in the spring and summer with the best players in Quebec. Montreal became his home for three years where he played and trained. He was seen as a dominating force who would quickly stop any attacker towards the net. As tournament wins and MVP trophies piled up, Ontario noticed the positive and negative numbers of this natural talent. He was a force to be reckoned with.
Content of the article
Blair remembers the call that changed everything for her son.
"I remember when Coach Lindsay Hofford called from Toronto Pro Hockey to invite Auzzie to tryouts for The Brick tournament. It was then that Auzzie saw the difference between having a dream and what happens when you work towards that dream. It was a proud moment for our whole family," Blair said.
Auzzie fought his way through each level of the tryouts, his defensive skills, high cognitive reactions, power and speed, making him a standout among the crowd.
In December 2021, his dream came true. Of hundreds of Ontario kids who tried, he was chosen by Lindsay Hofford, former scouting director for the Toronto Maple Leafs and former assistant general manager for the Arizona Coyotes. Hoffard has over 25 years of hockey experience and is the founder of Pro Hockey Development Group. His track record includes scouting one of Auzzie's favorite players, Mitch Marner, of the Toronto Maple Leafs.
The annual The Brick Invitational Hockey Tournament pits the top 225 players from 14 provincial and US teams competing against each other at the Ice Palace at the West Edmonton Mall in July. The prestigious tournament has a reputation for producing future NHL players. Tournament alumni include Jordan Eberle, Johnny Gaudreau, Auston Matthews and Steven Stamkos.
The tournament runs from July 4-10. All matches will be streamed online for friends and family members.
Auzzie has a Go Fund Me page to help him achieve his hockey dreams at https://gofund.me/10a1d7ec