Celebrating Hockey Player Abhishek's House – Sangri Today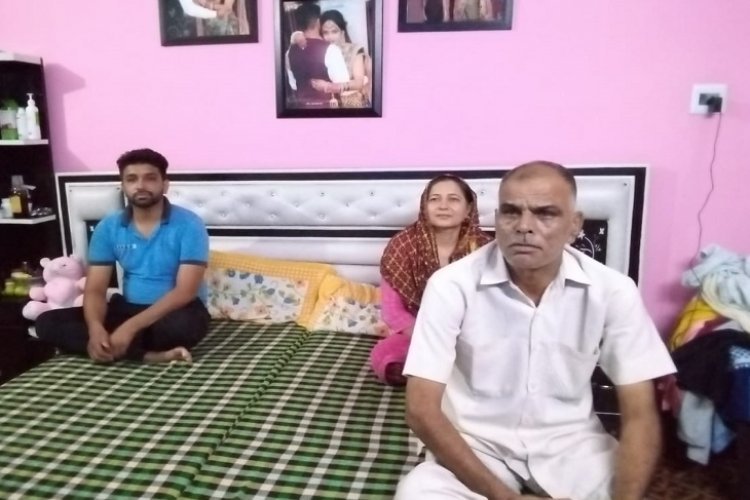 Mother said – will give a warm welcome to the whole team; son worked hard to play in the team
After winning the silver medal in hockey at the Commonwealth Games, the home of hockey player Abhishek was celebrated in Sonipat, Haryana. The whole family gathered in front of the TV to watch the game between India and Australia. Abhishek's mother, Surti Devi, said she was sorry for not getting the gold, but the team is bringing the silver. A warm welcome to the whole team. It was his son's dream to be part of the Indian team. It was his first Commonwealth game. Abhishek is dedicated to hockey and started working hard at a young age. Brother Ashish said he talked to Abhishek including him that 4-5 players in the team had foot injuries, due to which they could not play properly.
On Monday night, Father Satyanarayan, Mother Surti Devi and Brother Ashish and Father Satyanarayan, Mother Surti Devi and Brother Ashish also came to watch the India-Australia game at Abhishek's home in Sonipat town. Although the family was disappointed with India's loss in the final, the team came away with a silver medal, over which the family members expressed their satisfaction and handed out sweets. The mother said her son is part of Team India and that's why she would warmly welcome the whole squad back to the country.
Abhishek's mother said that her son has been devoted to hockey since childhood. He worked very hard to get into Team India. However, the family used to prevent him from playing, as he was always afraid to come home after getting injured. Abhishek's father, Satyanarayana, is retired from the army. He says he now regrets that they weren't supportive of him playing. However, after seeing Abhishek's passion for hockey, he started to cooperate. Now that he is at the top of hockey, he is happy that his son is the pride of the country, the state and the family.
Abhishek's brother Ashish said the brother used to dream all the time that he would finally be a part of Indian hockey. His goal has been to win medals for the country. Never miss practice. The whole family was sleeping, but he used to go to the ground for training at 4 a.m. under any circumstances. Abhishek worked very hard.
Let us tell you that Abhishek was selected for India hockey team in January 2022 only. It was his first Commonwealth game. According to family members, he had suffered a leg injury, due to which he could not play properly. Hockey coach Sandeep Sangwan said Abhishek has a bright future in hockey. He works hard every game. For this reason, he is part of Team India. After Haryana won the silver medal in the national junior hockey competition, Abhishek's performance in Khelo India also impressed everyone.
For the latest update of Sangri today Like us on Facebook and follow on Twitter. Fore Latest Video News Subscribe to our channel on YOUTUBE. Also join our telegram channel