Cunninghame Housing Association awards Stevenson hockey player £1,000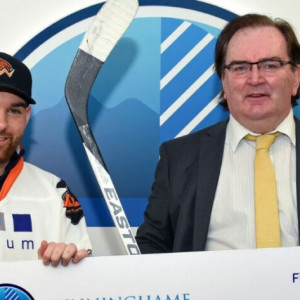 On April 11, 2022, John Kelly, chairman of the Cunninghame Housing Association, presented a check for £1,000 to Liam Anderson, a young ice hockey player from Stevenston.
Liam has been playing ice hockey since he was 5 years old. He is based at Harvies in Stevenston and currently plays for an amateur ice hockey team called North Ayrshire Wild and they play in the Scottish National League.
The League takes them all over Scotland, such as Dumfries and Aberdeen, and as far as Belfast, where the team plays both home and away all year round. Liam trains with the team twice a week as well as weekend matches.
Liam has been playing ice hockey for 17 years and thrives playing on an amateur ice hockey team. it benefits Liam's mental health and avoids isolation – something that had been particularly evident to many over the past two years due to Covid restrictions.
Funding provided by the Cunninghame Housing Association will help Liam with the ever-increasing costs associated with ice hockey, such as insurance coverage, registration and competition fees, and equipment. Liam is self-funded, so the Association's support is gratefully received and will enable Liam to continue in his sport.
Liam's funding comes from the "Making Our Communities a Better Place" charities fund which operates throughout the year (April 1, 2021 to March 31, 2022) until allotted funds are exhausted.
CHA President John Kelly said: "The Association is delighted to support Liam with the financial costs of continuing to be part of an ice hockey team, while enabling him to compete and participate in a competitive sport."