Figure skater Alina Zagitova broke up with hockey player Dmitry Voronkov. Truth or rumours?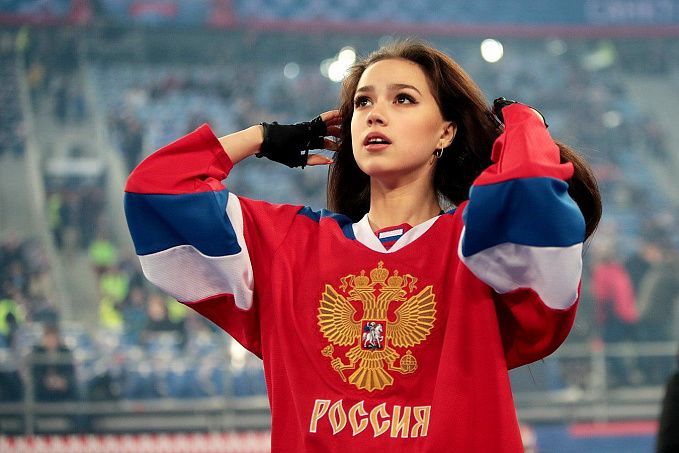 Olympic champion Alina Zagitova danced to Mariah Carey's famous song Obsessed. The skater posted a video on social media. Many believe that Alina's dance is dedicated to parting with hockey player Dmitry Voronkov.
However, the romance of the figure skater and the hockey player has not been officially confirmed at all. Telecomasia finds out what kind of relationship was (still is), potentially linking the main Russian sports couple.
Bet on figure skating with 1xBet

Is the song dedicated to the relationship?
These are the lyrics of the song that Zagitova dances to: "Oh, why are you so obsessed with me. Man, I wanna know. Lie that you're hitting on me. When everyone knows.
It's clear you're mad at me." It was as if the dance and song were directly referencing Voronkov.
Zagitova's fans loved her striking dance. Many have suggested that the Olympic champion's dance was a reference to recent big news. On May 21, SE journalist Alexei Shevchenko revealed that Alina broke up with Ak Bars hockey player Dmitry Voronkov.
Figure skater Alina Zagitova
However, rumors of an affair between the athletes have not been confirmed. Zagitova has been attributed to a relationship with several hockey players at once. Among them are Kirill Kaprizov, Alexander Romanov and, of course, Dmitry Voronkov.
Figure skater Alina Zagitova
Bet on figure skating with 1xBet

Did she date Kirill Kaprizov?
The figure skater began to be attributed with an affair with a hockey player in early 2018. Then Zagitova became an Olympic champion in Pyeongchang, just like hockey player Kirill Kaprizov. At the time, rumors surfaced that Zagitova and Kaprizov stood side by side at the airport in South Korea before flying to Russia and chatted a bit too sweetly.
Hockey player Kirill Kaprizov
In the fall of 2019, the athletes were again suspected of having a secret romance – Zagitova attended the KHL CSKA – Ak Bars match, where Kaprizov was among the participants. Moreover, the figure skater and the hockey player were shown in the same image during the broadcast.
Alina Zagitova and Kirill Kaprizov
However, after a while, Kirill completely killed the plot: "We're just acquaintances, and they made up a crazy story about someone approaching each other on the plane We didn't care at all, me and the guys were celebrating at the end of the plane."
Figure skater Alina Zagitova
Then Alina, who was still a minor at the time, also denied speculation about an affair with Kaprizov in an interview with 7days magazine: "No. I didn't even think about it. First of all, I'm small . And secondly, we will want to think about it after sports. Now we can only have a friendly relationship and nothing more!"
Figure skater Alina Zagitova
Bet on figure skating with 1xBet

Did she date Alexander Romanov?
The next hockey player who was attributed with an affair with the beautiful figure skater was CSKA defender Alexander Romanov. They started talking about a possible relationship at the beginning of 2020. The argument – the likes of Zagitova in the photo of Romanov.
Hockey player Alexander Romanov
But, as in the case of Kirill Kaprizov, the romance was fabricated by Alina's fans. In an interview with Life.ru, Alexander Romanov said: "Of course, I and Zagitova are not dating. Alina and I have no relationship, we are not even friends. We do not communicate at all, even on social networks".
Figure skater Alina Zagitova
Well, after Alexander Romanov proposed to ex-gymnast Sofia Krasovskaya, the rumors were finally put to rest. Fans were disappointed and started looking for a new couple for Zagitova. They searched for a year and finally found one!
Figure skater Alina Zagitova
Bet on figure skating with 1xBet

Did she date Dmitri Voronkov?
In the summer of 2021, Zagitova was suspected for the third time of having an affair with a hockey player – this time Ak Bars striker Dmitry Voronkov. Fans of the figure skater noticed that the athletes began to simultaneously post photos from the same places. First from a wakeboard trip in Moscow, then from a bathhouse in Sochi. And all the bouquets of flowers on Alina's social networks were perceived as gifts from Dmitri.
Dmitry Voronkov
Another proof of the romance between Zagitova and Voronkov was the regular visits of the figure skater to the home matches of "Ak Bars". But the case was cleared up when the hockey player and figure skater were spotted together in Dubai. Zagitova came there to star in Tatyana Navka's show, while Voronkov was in a KHL exhibition match in the World Games series.
Then the Ak Bars player was asked directly about his affair with Alina. Voronkov decided to carefully avoid answering, "Can you move on? Do I like figure skating? Yes, I do."
Figure skater Alina Zagitova
Sports journalist Alexei Shevchenko, who covered the Russian team's matches at the Beijing Olympics, added fuel to the fire. After Russia lost the final to Finland, Shevchenko posted a tearful photo of Alina Zagitova on the stand and made a tongue-in-cheek caption: "Alina Voronkova is upset the family won't get a prestigious car."
Figure skater Alina Zagitova
Alina's reaction to Shevchenko's joke did not take long. "This kind of publication is not journalism. It is a pity that many people pervert the profession with such behavior. I once refused an interview with this man. It turns out that I did this it was necessary", wrote Alina on social networks. Later, the reporter apologized for his words.
Figure skater Alina Zagitova
Bet on figure skating with 1xBet

Jessica Melena – a stunning beauty and wife of Serie A's top striker Ciro Immobile
How Anna Kournikova, the former tennis star and wife of singer Enrique Iglesias, lives now
Alsu Abdullina is Chelsea's first Russian player. His story is an example to follow