From college hockey player to author, LFC Alum has a story to tell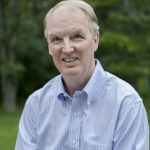 By David AF Sweet
Lake Forest College alumnus Tim Rapleye, a member of the 1977-78 Forester team that appeared in the NCAA Division II Championship Game, has carved out a fine career as a writer covering hockey.
From a book about Hobey Baker, Princeton University graduate and star hockey player, to his recently released book A miracle of their own about the 1998 gold-medal-winning USA women's hockey team (with a foreword by Lake Forest native Hilary Knight), Rappleye has brought many sports stories to life. He will be at Winnetka's Book Stall on Sunday, November 6 at 3 p.m. to talk about his latest work and sign copies.
How did you get into writing?
I come from a family of writers and storytellers. My dad and brother were reporters, to be precise, and another brother was an on-air political reporter in Providence, Rhode Island, so stories and news were often at the dining room table.
How did playing hockey spark your interest in writing about the sport?
I was both a gamer and a super fan. I went to the 1977 NCAA Frozen Four in Detroit with four other Foresters and nearly lost my mind. The following year, Lake Forest went to their own Frozen Four in Division II and got into mania.
I was not a very good player – something like a Clydesdale in defense. I didn't carry the puck with my head held high and always wished I could. It made me curious/envious of these elite players and eager to tell their stories.
Tell me what it was like to cover the 1980 Olympics, most remembered for the victory of the United States over the Soviet Union – the Miracle on Ice.
I was the official production assistant for bobsled and luge for ABC's News Feed, my first notable job out of college. ABC Sports staffer John Bessone arranged for me and two of my high school hockey teammates to get site referrals as runners and spotters for all hockey games in Lake Placid. I remember buying a sandwich for Ken Dryden, but the rest of the time I was on call in the huge ABC TV press box above the Olympic Center ice.
I remember the comeback against Finland and Mark Johnson's shorthanded goal early in the third period as my favorite and most exciting moment. For some reason beating the Soviets seemed like a fait accompli volume. I wasn't as excited as I should have been.
In what ways has Lake Forest College helped you get interested in your career?
I met an alumnus of Lake Forest College named Bob Verdi in my senior year. Bob is probably Chicago's greatest hockey writer; he covered the Blackhawks for two decades at the Chicago Tribune. I was so into sports and chatted about sports so much during my four years in college that I thought there was nothing else I could (or wanted to) do. So the passion for the sport certainly ignited on the old Sheridan Road.
What interested you in the history of the United States women's hockey team in 1998?
It was my writing partner Keith Gave who asked me if I wanted to team up with him on this book. Turns out he couldn't have asked for a more well-versed partner because I had covered four Winter Olympics for NBC prior to this conversation. Keith had the vision; imagine him as George Clooney from the Oceans 11 franchise. I happened to be the security hacker, the driver, the computer geek, and some of the other specialists. I had a ton of professional knowledge and connections in this area, but Keith had the vision, the artistry, and the mastery of the Associated Press style. However, I have cracked a lot of safes.

Is there a book you would like to write but haven't yet?
I wasn't sure I had a book left in me until my conversation with Keith 16 months ago. I was a huge fan of the legendary Frank McCourt and his book the teaching man; I read this shortly after getting certified to teach at a public school in Connecticut. The teaching is super tough, and often hilarious. I often teach as a substitute in my new home in Traverse City.
I thought if I stopped writing about hockey, maybe I could write about my college adventures as a beleaguered under-professor. It could be fun and it could also make my life easier. How long can you spend in the toy department of life after all?
What do you think is the biggest challenge you face as a writer?
These typos. No matter how many times you read your documents, something slips through the cracks. I've hired others, including my wife who is a great copywriter with a great eye, but they still sneak in. Exasperating.
What is your favorite thing about writing a book?
This is by far the joy of someone reading and enjoying your work. I've written for many online publications, and you never know if someone reads your articles. Sometimes hitting a single drive is worth it. Plus, the camaraderie one enjoys with other writers is awe-inspiring. Makes great conversations.
What stories can you share about doing interviews for a book?
I remember the poignant ones. I sometimes see myself as a Barbara Walters, sometimes bringing tears to my subjects. When I interviewed Boston University hockey coach Jack Parker about the father of one of his players, Seth Johnson, for The wise, I was the one getting wet. These Boston Irish, they really know how to spin. I think that's why The wise (the story of national champions Boston University in 1977-78 sending players to the 1980 Olympics) was so beloved; these guys basically wrote it themselves.
Sporting Life columnist David AF Sweet is the author of Three Seconds in Munich. You can reach him at dafsweet@aol.com.