Garden River First Nation hockey player prepares for international debut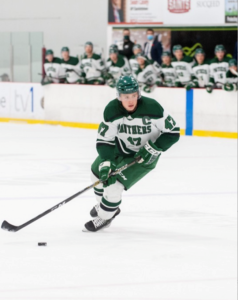 By Sam Laskaris
CHARLOTTETOWN, PEI – Owen Headrick already has an impressive hockey resume and the Garden River First Nation member will add to his list of accomplishments next month as he was selected to represent Canada at the World University Games.
The multisport event will take place December 11-21 in Lucerne, Switzerland.
"This is my first time representing Canada," said Headrick, a 24-year-old defenseman who is the captain of the University of Prince Edward Island (UPEI) Panthers this season. "I am very excited about this."
Ten countries will form ice teams in the men's hockey competition at the Games.
Canada will play round robin matches against Estonia, Latvia, Slovakia and the United States. A second division consists of participants from the Czech Republic, Kazakhstan, Russia, South Korea and Switzerland.
"We have a very good team," said Headrick of the Canadian roster. "We have a lot of the best players from their respective varsity teams. "
Canada won the bronze medal at the last winter version of the World University Games held in Russia in 2019.
Headrick is obviously hoping for a golden performance this time around.
"I think that's our goal," he said. "I think we have a really good team as long as we can get along and find some chemistry."
Canada's 23-player roster was announced on November 16.
Headrick said he was not aware of any details about the world tournament until his sister Jana, who plays hockey for the University of New Brunswick (UNB) women's team, told him texted about the event and told him to keep an eye out for additional information.
"I think she saw the notice about it and said there was a good chance that I would be named to the team," he said.
And of course, that's what happened.
Gardiner MacDougall, the head coach of the UNB men's team, will be the head coach of the Canadian club Lucerne.
MacDougall is undoubtedly familiar with Headrick's game since UPEI is part of the same conference – Atlantic University Sport – as UNB.
"He recruited me a few years ago," Headrick said. "But I don't really know him.
But the hockey community certainly knows who Headrick is.
At 17, he played a major role with the Sault Ste. Marie Thunderbirds, who won the Northern Ontario Junior Hockey League championship. Headrick was named the league's playoff MVP that year.
He then played for a season and a half with the Lake Superior State Lakers of Michigan, an NCAA Division 1 team.
Headrick left school in early 2017, in his second season, to join the Erie Otters of Pennsylvania, members of the Ontario Hockey League. A few months later, he helped the Otters win their league championship.
Headrick turned pro after finishing the following season with the Otters, appearing in four games with the ECHL Wheeling Nailers.
Instead of continuing to pursue a professional career at the time, however, Headrick returned to school, choosing to attend UPEI, starting in the 2018-19 campaign.
He graduated with a Bachelor of Arts last April. But he's now back at school in Charlottetown and enrolled in the Masters of Education program, which also allows him to play in his final season of college eligibility.
Headrick hopes to give professional hockey another shot at the end of this season. And he believes the World University Games will give him the perfect chance to get his name out there.
"I think this is a great opportunity for me to show my skills, especially in Europe," he said. "There are a lot of good leagues in Europe. I would like to stay in North America but I am not closing the door to Europe.