Hockey Game Pick D-III West – Nov 11-12, 2022 – College Hockey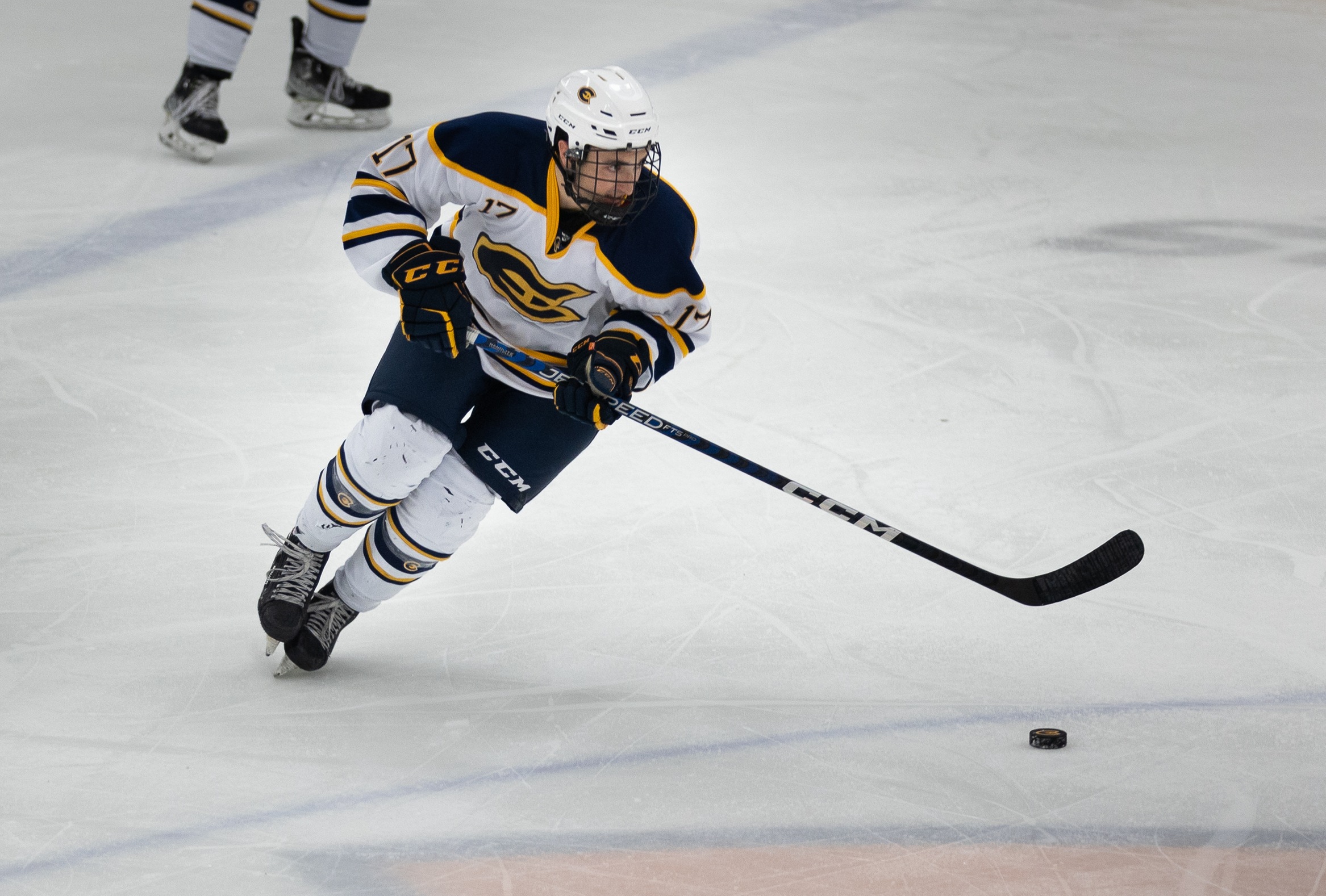 We are in the middle of November and the clashes are interesting to say the least. UW-Eau Claire and Augsburg square off in a key non-conference game that could have tournament implications down the road. And one of the biggest surprises of the season, UW-Stout takes on Lake Forest as they look to go undefeated.
Find out more about these matchups and more in this week's picks.
Friday
UW-Eau Claire (2-0) at Augsburg (1-1-1)
Ranked 15th in the DCU/USCHO Division III men's poll, the Blugolds have an opportunity to send the message that they are a legitimate contender nationally. They scored seven goals in the first two games along with 12 assists and shut out Gustavus last week. It will take a full game to win, but the Blugolds are capable of pulling it off.
The Auggies are ranked fifth nationally and have the ability to dominate on both sides of the ice. Six different players have scored goals for Augsburg and that balanced attack will be needed to emerge from here with a win. Home ice could make the difference.
Augsburg, 3-2
UW-Stevens Point (1-1-2) at Saint Mary's (1-2-1)
The Pointers are off to a rocky start, but have some momentum heading into the weekend after picking up their first win last week.
With just seven goals in the first four games, they will look to bolster the offense against the Cardinals.
For Saint Mary's, this is a game-changing opportunity as the Pointers are still one of the best teams in the country. The Cardinals, who just ended a three-game winless streak, need to make it a low-scoring affair to get out of here with a win.
UW-Stevens Point, 3-1
Northland (0-3-1) at Hamline (1-2)
Although they have yet to win a game, the Lumberjacks have shown they are going to play hard and compete every night. The goals that have been scored have been spread out and a good start could be key to success against the Pipers.
Hamline had its ups and downs at the start of the season and, like the Lumberjacks, they are fighting hard. This is a match that could easily go either way.
Northland, 3-2
Saturday
Saint Scholastica (2-3) to Gustave (0-2-1)
After losing three games in a row, the Saints are on the right path and hope to continue that momentum. They scored 10 goals in a win over the Gusties on Thursday and are looking to close the series on a high.
The Gusties are hungry for a bounce-back win and getting it means getting off to a good start and solidifying things defensively in order to get their first win of the season. It won't be easy against a Saints side that may have found their groove from an attacking standpoint.
Saint Scholastica, 5-2
St. John's (3-1) at Concordia (2-3)
The Johnnies capitalized on excellent special teams play to eliminate the Cobbers 7-3 Thursday night, scoring three power-play goals. Saint John's is 8-for-20 this season on the power play and they'll look to build on that on Saturday.
Concordia have lost their last two games, allowing five more goals in each of the last two. A big defensive effort will be needed to get out of this series with a gap.
St. John's, 5-3
Friday and Saturday
Marianne (1-1) to Adrian (3-0-1)
Nothing beats a test against the country's No.1 team. The Sabers haven't played since the last weekend in October and will need to shake off the rust at the start of this NCHA series. They have allowed 11 goals on the year and need to be able to do the job in defense against an Adrian side capable of scoring at will when things go well for the reigning domestic champions. Winning won't be easy, especially on the road, but if the Sabers can stay the course in third, anything is possible. The Bulldogs are looking to extend their 35-game unbeaten streak this weekend.
Adrian, 5-2 and 6-3
Lake Forest (2-2-1) at UW-Stout (4-0)
The Foresters are looking to bounce back from losing two games last week to MSOE. This is a team that has the ability to score goals in clusters, scoring five times or more than four times.
But the Blue Devils also have a dangerous attack. They scored 15 goals in their first two games and were one of the best stories in D-III hockey at the start of the season. They gained confidence by beating nationally ranked Augsburg last weekend.
UW-Stout, 5-3