Hockey player Surendra's home celebration on silver medal – Sangri Today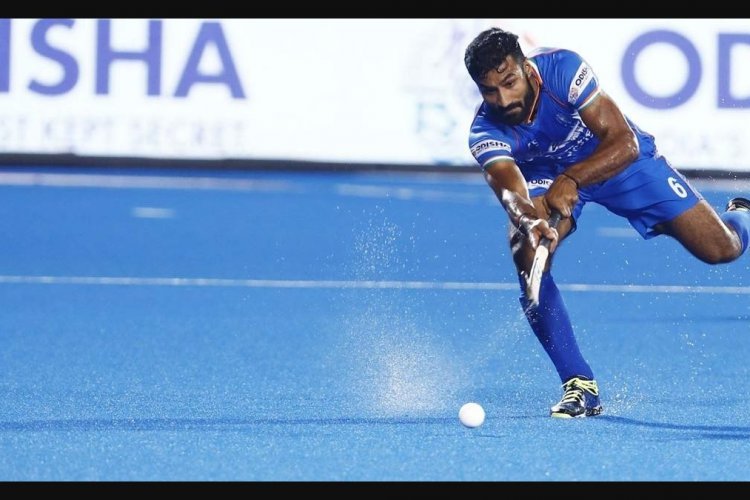 The woman said on the silver medal – kept the promise; Father used to tell things from childhood
The last match was played between the Indian men's hockey team and Australia in the Commonwealth Games. Kurukshetra hockey player Surendra Kumar has also been included in the Indian squad. Surendra Palad, originally a resident of the Barana village of Karnal, currently lives in Kurukshetra. India's hockey team won the silver medal.
There is an atmosphere of happiness in Surendra's house. The family is a bit sad that the team couldn't win gold, but winning a silver medal is also a great achievement. Happiness is celebrated by feeding sweets at home and the family say that when Surendra returns to India, he will be greeted enthusiastically.
Surendra's wife Garima says it's a good achievement for the team to get here. The whole team worked hard and we managed to get the silver. When Surendra left home, he promised he would return with a medal and he kept his promise. This medal is the medal of all India.
Surendra's mother, Neelam Devi, is happy that her son is part of this team. She says that when Surendra started playing hockey, people used to say what you would do by feeding him, today Surendra's achievement has not only lit up the name of the whole family, but also the name of the country. The whole team played the game with heart but maybe they didn't have any today.
Referring to the childhood of Surendra's father, Malkhan Singh Surendra, he said that when Surendra started playing hockey, we even refused to give Surendra a hockey stick. A friend of mine gave Surendra a hockey stick. Today, he is proud of his son that he was part of the team that won an Olympic bronze medal and a Commonwealth silver medal.
He says his family is a simple family. I was also a small farmer, but today we have all the comfort thanks to Surendra. Proud of the son, Surendra's father prays that everyone will have such a son. The father said that when Surendra comes home, he will be greeted enthusiastically. Its preparations have already begun.
Hockey player Surendra started his career in 2004 at Dronacharya Stadium in Kurukshetra. Surendra Kumar Palad played brilliantly in the National Junior Hockey Championship held in Pune, Maharashtra in 2011. The team broke the 50-year-old record by registering a win. After that, Surendra was selected for Indian hockey camp.
For the latest update of Sangri today Like us on Facebook and follow Twitter. Fore Latest Video News Subscribe to our channel on YOUTUBE. Also join our telegram channel