Kraken makes history in Seattle with city's first NHL home hockey game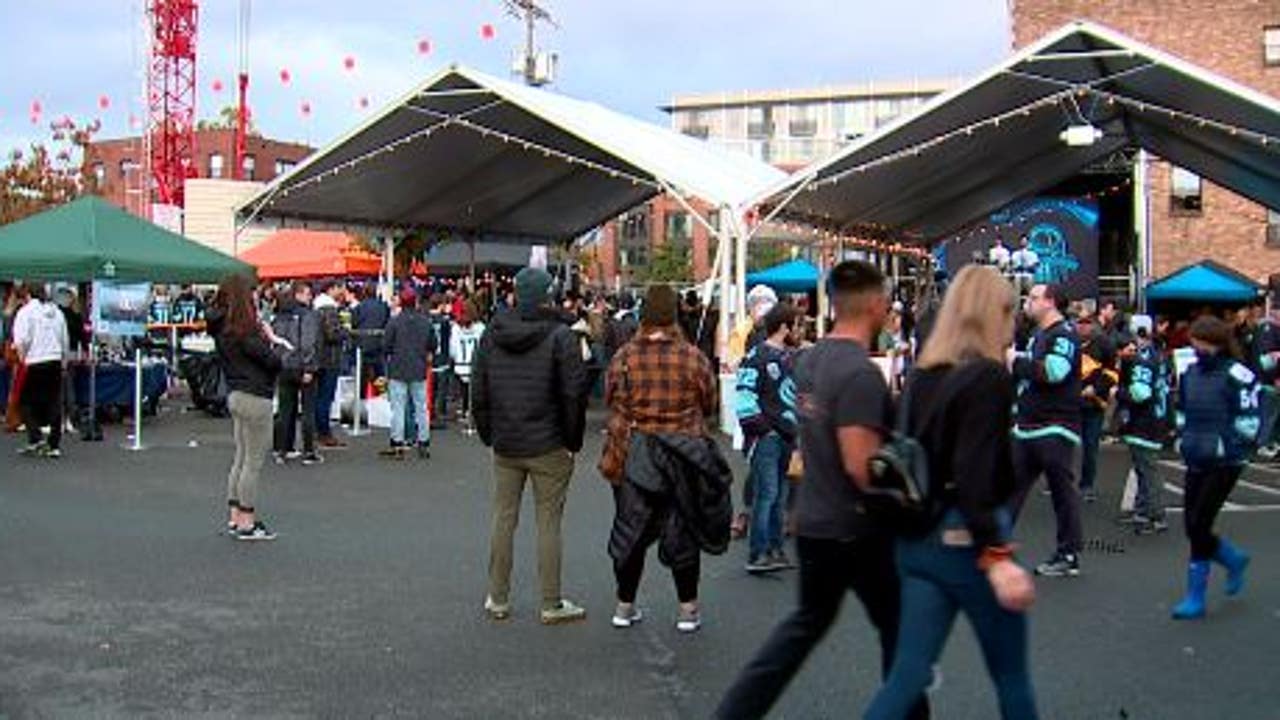 SEATTLE – The Seattle Kraken lost 4-2 to the Vancouver Canucks, but that wasn't enough to spoil the ongoing story at Climate Pledge Arena on Saturday night.
The NHL's first-ever home game was in Seattle with the Kraken hitting the ice at Climate Pledge facing the Canucks.
All over town, signs of excitement were everywhere. Fans adorned with Kraken gear filled the streets, businesses held special events, and the Kraken flag fluttered above the Space Needle.
"This will be the NHL's first game in Seattle, so I'm pretty excited about it," said Scott Pringle.
Pringle stood out among the hundreds of Kraken fans at Dick's Drive-In near Climate Pledge Arena thanks to a huge knit Kraken-shaped beanie he wore.
Pringle left the celebration at Dick's early to head to the arena, but plenty of other people hung out, listening to music and enjoying the grand celebration of the historic day.
A few blocks away in Coltiva, fans prepared for the game in a milder setting, complete with pizza and drinks. However, the excitement for the big day was still the same.
"This is my dream come true," Tamae Satsu said.
Hockey is an integral part of Satsu's life. She played for the Japanese national team for ten seasons, most notably as a member of the 1998 Olympic team.
"In professional hockey, I never imagined that would happen. It's overwhelming today, I'm so excited, "she said.
Some fans have waited a good part of their lives for this day.
"This is the day I have been looking forward to," said Dylan Gale.
When Gale first heard that the NHL was coming to Seattle, he was eight years old.
Now, nearly a lifetime later, he's finally here, and nothing would stop him seeing the Kraken play at home.
However, accessing the game was not easy. Gale must have played his own hockey game earlier today, which he says he won. Then his family had to catch a flight from Kennewick to get to Seattle in time for the puck delivery.
Gale says it was all worth it.
"I am really excited."
Sadly, the Kraken lost to the Vancouver Canucks 4 – 2. The Kraken returned to the ice at Climate Pledge Arena on Tuesday to face the Montreal Canadiens.
PREVIOUS COVER: Official opening of the Climate Pledge Arena on Friday
Stay connected with FOX 13 News on all platforms:
DOWNLOAD: FOX 13 Weather News & Apps
LOOK: FOX 13 Live News
SUBSCRIBE: FOX 13 on YouTube
BRIEF DAILY: Subscribe to our newsletter
TO FOLLOW: Facebook | Twitter | Instagram
WATCH LIVE: FOX 13 News