Local referee speaks out after alleged assault on hockey player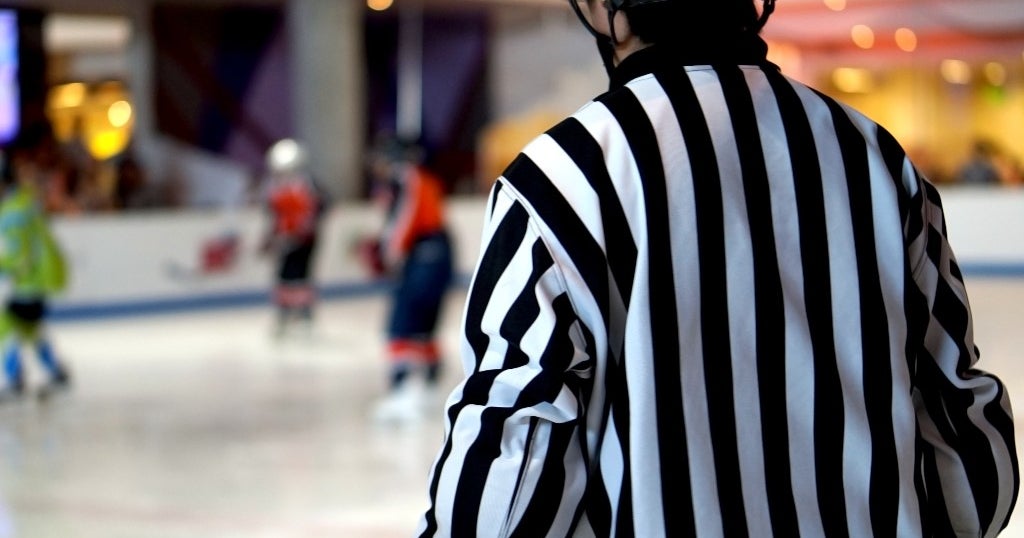 PITTSBURGH (KDKA) — Charges are pending against a local hockey player after police say he fired a cheap shot at a referee.
A constant headache, blurred vision and pain are just some of the ailments suffered by hockey referee, Chris Armstrong. He said he was still in disbelief that this even happened. He said referees in any sport should be treated with respect.
"He just hit me with his stick. I fell. I didn't even see it coming. He hit me with the blade of his stick. He got me wide open," Armstrong said.
Armstrong, who served as a referee for three decades, officiated an adult hockey league game Tuesday at Paintscape Arena in Southpointe.
He said it was an exciting game so far.
The fight – captured by Livebarn camera footage – shows the player, Jaris Harbieh, punching Armstrong in the face and knocking him to the ground after trying to separate him from another player. The 23-year-old was handcuffed and charges are pending.
Armstrong thinks that's not enough.
"He hit me with a gun. And an attack on a sports official too. I'm going to have permanent damage to that eye now," Armstrong added.
Armstrong was rushed to the emergency room and required 15 stitches to close the large gash above his eyebrow. He also suffered a concussion and has blurred vision, which the doctor told him might never go away.
Armstrong said in his 30-year career it was the second time he had been attacked.
"That's why we lack referees because of parents, coaches and players attacking us. We don't have weapons. They have sticks, they have equipment, we don't," said Armstrong.
"Justice must be done. Lead by example because that's why we lack referees."
Armstrong and his fellow umpires feel they should be treated more like policemen. The referee's job is to protect the players so everyone has a good time and doesn't get hurt.
"It's almost like hitting a cop. You just don't," Armstrong said.