MANKATO — When Dylan Boettcher played track and field in high school, he took great pride in wearing his football jersey to school on Fridays or wearing the tie on hockey game days.
As head coach of Mankato's new co-ed adaptive floor hockey team, he hopes to bring that experience to a new group of athletes.
"This year it's really not about winning," Boettcher said. "I hope it will be something the kids will enjoy and be proud of, whether walking down the halls of school or hanging out with family during the holidays. High school sports meant a lot to me, and I want these kids to have the same experience. It's a feeling you can only experience while playing sports in high school.
Mankato's side played their first game on Monday, losing 18-2 to Stillwater. Shanti Esters scored two unassisted goals and Jacob Watson stopped 42 shots.
"The atmosphere was amazing and the support from the community was more than we could have ever imagined," Boettcher said. "Electric atmosphere, and the kids played really hard."
The team is a cooperative program of Mankato East and Mankato West. It's been a long process, delayed a year by the pandemic, to join the Minnesota State High School League, which has sponsored adaptive floor hockey since 1992.
There are two divisions for Adapted Floor Hockey: Physical Impairment and Cognitive Impairment. Mankato plays in the CI division.
Boettcher, 28, is a paraprofessional at Roosevelt Elementary, working with special education students. He is working on his teaching degree and hopes to find a job in Mankato, where he attended Franklin Elementary and East.
Boettcher was hired in November and he spent time researching how to coach suitable hockey, spending a lot of time watching YouTube videos. Adapted floor hockey follows some general rules of hockey, although offensive players should stay on one side and defensive players on the other. Each team has a center who can play the whole floor.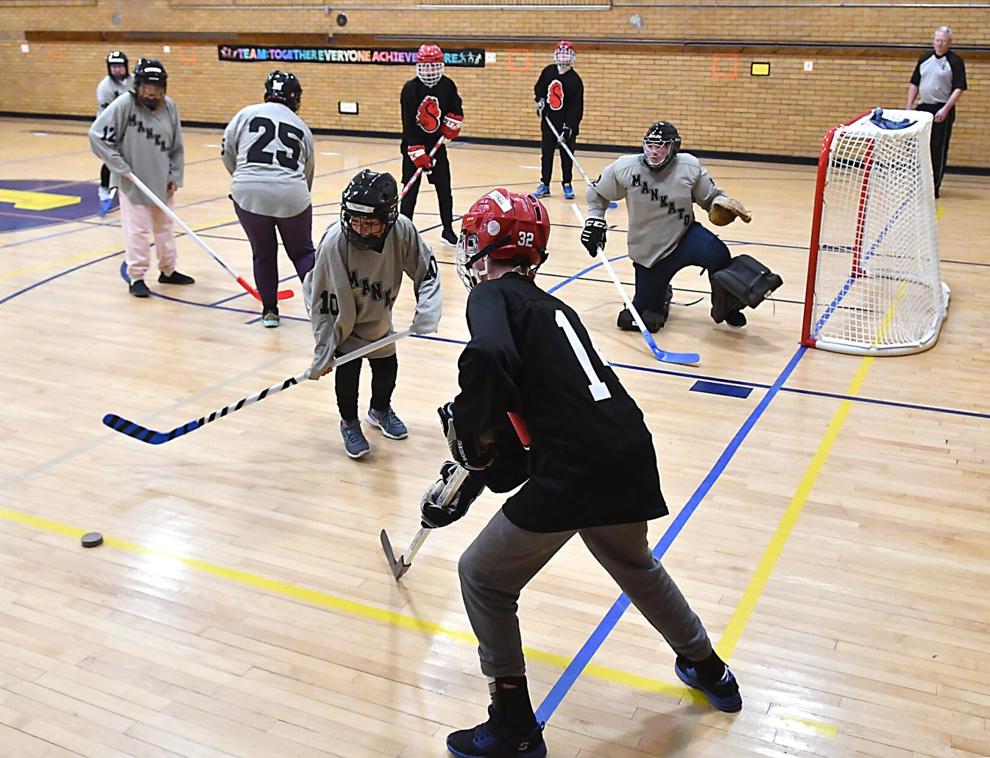 "The hardest part was finding enough players to have a squad," said Boettcher, who is assisted by Kylie Paulson. "I did a lot of networking and I got help from specialized educators and adapted bowling coaches. I did everything to spread the word. Now I'm trying to figure out how to train a game that most of these kids have never played. Most of them know hockey from watching television or playing in physical education class.
Mankato will play an eight-game schedule, with most opponents from the metropolitan area. A section tournament will follow the season and a state tournament is scheduled for March 18-19. The Mankato team plays its home games at Franklin Elementary.
The squad has 12 players, including seniors Brianna Groenewald, Jack Kohout, Thalia Miller and Junuh Varela.
"That leaves eight players who I hope will have fun and want to come back next season," Boettcher said.
Follow Chad Courrier on Twitter @ChadCourier.