May 6 charity hockey game benefits Francis family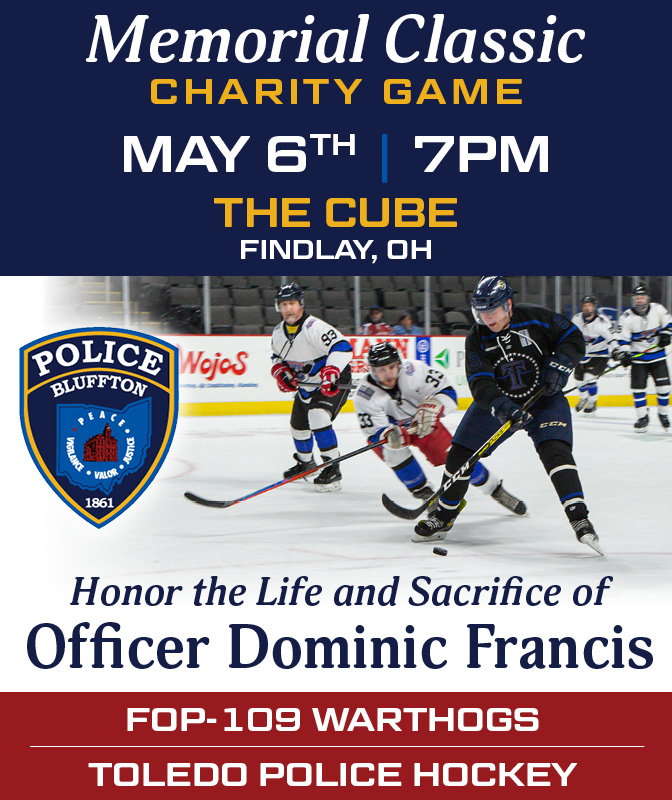 The Cube Ice Arena in Findlay, Ohio will host a charity hockey game between the FOP 109 Warthogs and the Toledo Police Hockey Team at 7:00 p.m. on Friday, May 6, with proceeds benefiting the family of the Officer Dominic Francis of the Bluffton Police Department. .
The game is part of the First Responder Face-Off Foundation's Hockey Helping Heroes initiative. Doors open at 6:00 p.m. and puck drop at 7:00 p.m. The Cube is located at 3430 N Main St. in Findlay.
Seating and ticketing will be general admission with donation at the door. The game will also feature raffle prizes, a 50/50, and an in-game Chuck-A-Puck contest.
Bluffton Police Officer Dominic Francis was killed in the line of duty on March 31, 2022 and was a member of Fort Findlay FOP Lodge #20. "We are deeply saddened by the loss of another Fort Findlay FOP Lodge member and officer, Dominic Francis. Being able to raise funds for his family is an honor," said David Hill, Chairman of the Lodge Board of Directors. .
"Every time we lose an officer there is a tremendous sense of loss within a community. When this tragedy occurs in a small community, that impact is deeply felt," said Don Zender, director of the First Responder Face-Off Foundation. The non-profit organization created the Hockey Helping Heroes initiative in Columbus to showcase first responder hockey and raise awareness of the various charity and charity games that state public safety hockey teams play at. 'Ohio participate every year.
With previous games played in Toledo, Cincinnati, Columbus, Athens and now Findlay, Hockey Helping Heroes takes on special significance. Zender said, "Hockey is a sport that tends to bring people together in a fun yet competitive environment. When our police teams come together for these games, we are able to bring a message of unity and hope through hockey to a community that is still learning to heal."
People who wish to donate but are unable to attend the game are encouraged to visit www.fortfindlayfop20.org