Spruce Grove hockey player signs with MJHL's Niverville Nighthawks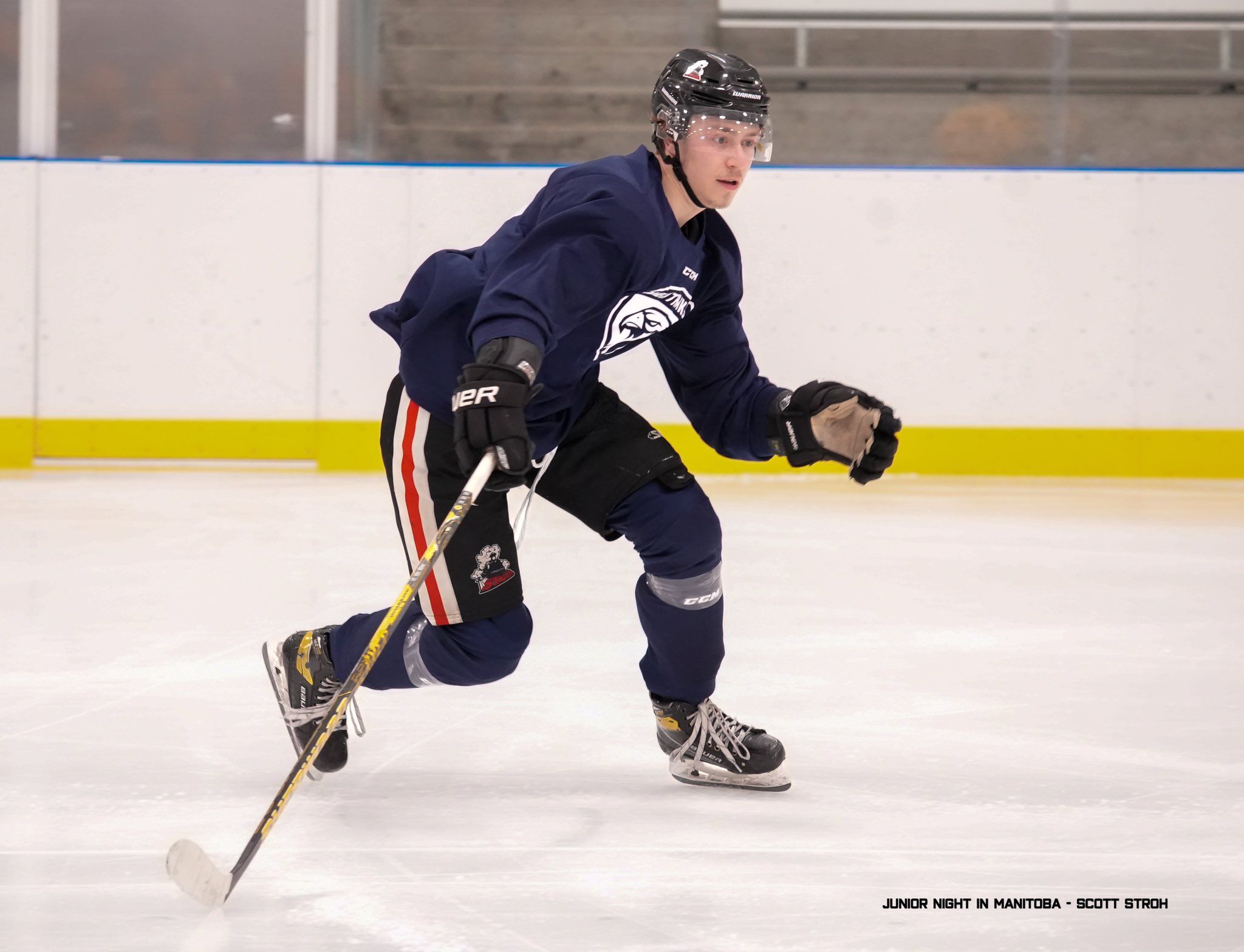 Content of the article
Jack Lynes pursues his dream eastward.
Content of the article
The 19-year-old center hockey player from Spruce Grove has signed with the Manitoba Junior Hockey League's (MJHL) new team, the Niverville Nighthawks for the 2022-23 season.
"Signing with the Nighthawks is incredible knowing I've worked for this opportunity for many years. To play in an inaugural season for a team with such a committed community is something I look forward to, it's something everyone players can't say they've done in their hockey career," Lynes said.
Raised by a family of hockey players, Lynes learned to skate at age three and joined the Spruce Grove Minor Hockey Association (SGMHA) at age four in 2007. Ages 13-15 years, he played with the PAC Saints until joining the KC Pats (Knights of Columbus) U18 AAA in the Edmonton Minor Hockey Association (EMHA) at age 16.
He said playing minor hockey at Spruce Grove taught him a lot as a player and as a person. He acquired transferable skills by being involved in a team atmosphere, such as how to work and communicate with others. During this time, he also bonded with players he still considers friends today.
"As a kid, you form relationships with your teammates that are hard to establish elsewhere. I still see guys from years ago and it's like nothing has changed," Lynes said.
In 2019, he joined the Summerland Steam of the Kootenay International Junior Hockey League (KIJHL). In his only season with the team, Lynes scored 11 goals and 26 points in 38 regular season games. He added four goals and five points to his record 11 KIJHL Teck Cup playoff games. Lynes said his time with Steam gave him the opportunity to take his game to the next level to become the gamer he always wanted to be.
Content of the article
Mark MacMillan, Head Coach and General Manager of Steam, took Lynes under his wing Mark to help improve his mental side of the game. Lynes said he earned the nickname "Patrice" from his teammates because he often played the game two-way and focused on the face-off of Boston Bruin Patrice Bergeron.
"He was a great two-way player for us and a force in the face-off circle. He was always one of the hardest workers on our team and always looking to improve his game. Jack is moving on, he really deserved it," MacMillan said.
By joining the Nighthawks, Lynes hopes to bring what he calls a mature 200-foot game to Niverville where he can be counted on both on the ice and in the locker room, no matter the situation. Over the next two seasons, he intends to create a winning culture in the community where fans are excited to watch and players are excited to play.
He said his ultimate goal in hockey is to play the game for as long as he can. After his junior career, he wants to play for a college or university where he can study science. His only advice to current minor hockey players is to never compare yourself directly to your peers. He said everyone develops and matures at a different rate.
He is currently training at his home in Spruce Grove before moving to Niverville at the end of the summer.
"I'm grateful to have the opportunity to play Junior A hockey in Niverville. I already feel welcomed by the community and the coaching staff. I look forward to building a winning culture with a new franchise," Lynes said.
rhowell@postmedia.com